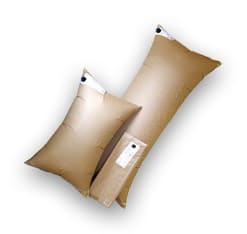 Protective multilayer paper bags
Air-filled pneumatic shells will reliably protect your cargo from damage and destruction during road, air, sea and rail transportation. The inflatable dunnage bag consists of several layers of durable polyethylene and kraft paper. The bag for filling voids, when transporting goods, is convenient to use and takes up as much space as necessary. The adjustable volume is easy to control by pumping to the size you want. Reusability and ease of use significantly reduce your shipping costs, without any complaints and claims from your customers.
ELTETE paper bags are a modern way to protect your cargo, at the moment it is the most cost-effective and reliable way to keep your products static during transportation.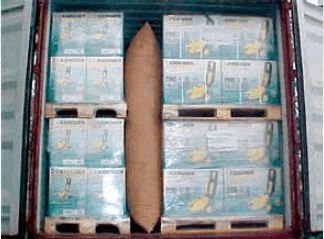 Available sizes
| 600 мм × 1200 мм | 800 мм × 1200 мм | 1000 мм × 2200 мм |
| --- | --- | --- |
Extra Strength Paper Valve Bags
Protect cargo from damage

Smart loading system
Fast packaging and simple shape
100% recyclable - 3R
Meets modern standards
Advantages of ELTETE paper transport bags

Valve and baffle bag can be reused

Easy to use, adapts to any size and shape
A fast, convenient way to protect your cargo
Varieties of paper inflatable bags ELTETE
ELTETE Sankt Peterburg is a manufacturer of a wide range of kraft paper protective shipping bags. You can buy multi-layer paper transport bags in bulk and small wholesale from us. Each bag has a built-in air valve for repeatedly inflating and deflating the bag. Shipping bags can have one, two, three or more layers of kraft paper to make the product particularly durable. The dimensions of Dunnage Bags can vary from 10 × 20 cm to 300 × 200 cm. The most common type is three-layer paper bags.
Reliability of ELTETE pneumatic bags
Inflatable dunnage bags can have one, two, three or more layers of kraft paper to give the product extra durability.
ELTETE paper dunnage bags protect your cargo from damage!